CPP Psychological Personality Test for Candidate Pilots
Next to physical tests, candidate pilots also go through a series of mental tests. Part of the COMPASS suite of tests is the Checklist Personality Profile (CPP) questionnaire for pilots. FTOs and ATOs can use the CPP psychological test to help determine candidate pilots' suitability.
CPP is a personality questionnaire designed to measure a broad range of personality traits that are important in the function of an airline pilot. The questionnaire also comes with an automatically generated report, in which these traits are combined to form relevant competencies, such as stability, flexibility, self discipline, team orientation, independence, leadership, assertiveness and more. Several norm-groups already exist, ranging from ages 16 to 30 years and from different nationalities. The questionnaire is now available in multiple languages such as Dutch, English, Chinese, Arabic, Turkish and Czech.
Testing with Statistically High Reliability and Validity
CPP has proven its value as part of the AB-initio pilot, MPL as well Airline selection procedure. The performance of CPP is not only based on practical experience. From the design of the test several statistical researches have been conducted, improving the reliability and validity of the test.
The test is designed in combination with COMPASS and Advanced COMPASS. We would suggest the operator to let the candidate conduct the COMPASS test or Advanced COMPASS test first. When this candidate passes this aptitude test, the candidate should then proceed with CPP.
Which psychological traits does the Checklist Personality Profile test?
Airline pilots need to score well on various psychological traits, and CPP tests and maps out the following mental capabilities:
Resilience
Stress tolerance
Impulse control
Ambition
Accuracy
Perseverance
Dominance
Persuasiveness
Assertiveness
Teamwork
Helpfulness
Empathy
Autonomy
Openness
Need for variation
By scoring pilots on their personality like this, CPP helps in the selection and training process of aviation personnel.
Availability of test results
The results of the above tests are instantly available after the candidate has completed the tests and the data has been uploaded to the Selection Server. Only those people issued with a special access code to see the results can look at the summary results and print the detailed reports.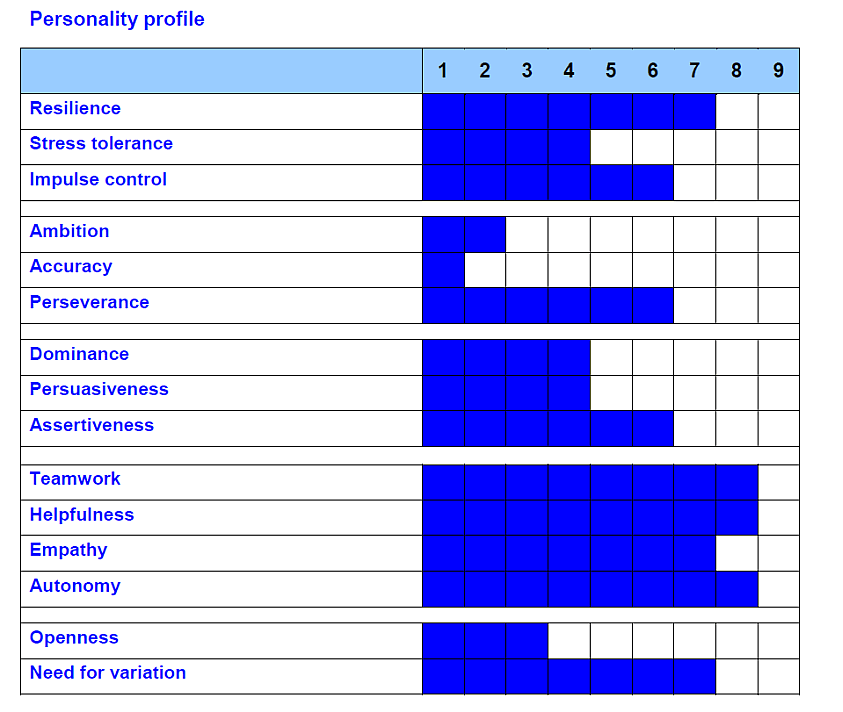 The software used to perform the tests can be installed on a PC and administered anywhere in the world, provided there is internet access. The Management/Administrator of running the tests does not require any special training and it is minimal in terms of time involvement.
How long does the Checklist Personality Profile for pilots take to complete?
CPP can be completed within 1 hour.